July 28, 2020
Thrace Group donates 2.000.000 certified, surgical masks to public services throughout Greece.
More than 300 organizations in Greece received disposable masks, in order to support vulnerable, high risk groups from the Covid-19 pandemic, through the THRACE GROUP x DESMOS x ACS supply chain.
Thrace Group donates 2.000.000 certified, disposable surgical masks through Desmos' administration. Since June 1st, ACS Couriers have successfully delivered, free of charge and under certain safety measures, 1.000.000 masks to public services throughout the country. Out of that amount, 212.000 have been given to the Social Organization "Stavros Chalioris", in Thrace.
Desmos, the non-profit association, which is the link that provides our social offer to Greece, coordinates communication with all organizations, confirms their needs and carries out the implementation of the donations.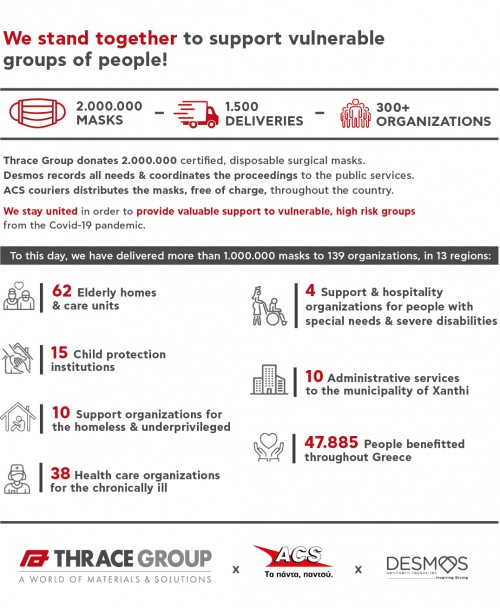 Thus far, our offer has benefitted 47.885 individuals, who struggled to get access to that valuable – and necessary for public and personal health- sanitary item.
Deliveries to organizations continue in a fast pace, like social pharmacies, hospitality institutions, health care organizations for the chronically ill and other assemblies. All deliveries will be completed by the end of September.